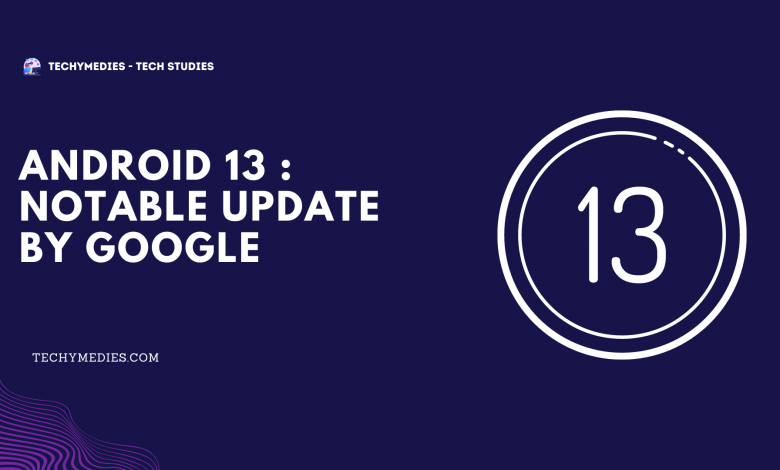 Recently Google Launched its new Android Version, Android 13. Google always tries to push some new and specific features on each upgrade, but still, some bugs are caught there. Regarding this update, too, there are several notable features, including some bugs. Check out some notable features of Android 13 and what we need from it.
In the Previous Android 12 version, we have noticed a lot of improvements and changes, that's great. This new Android 13 has also carried out some features that are not as of Android 12. Anyway, this smaller OS Upgrade is fine in the initial days.
Android 13 is one of the latest and updated OS Versions made for Smartphones to build up the new changes for smartphone users. With these smaller upgrades, Google tries to distribute the number of potential features.
If you are familiar with the Pixel phone or Pixel's Clean OS, then Android 13 may be the one that meets your desire. I mean this: this Android update doesn't shake up the smartphone ecosystem like the Previous one because it's not a heavy update like that. We can notice some features that make you go for Android 13.
Android 13: Pros & Cons
There are several reviews by different gadget experts regarding this new upgrade of OS. But overall, when we look it up closer, we can find out some of its positive features that let us love Android 13 and some not.
Pros
Expanded features without changing the system User Interface
Lightweight and Faster UI
Additional accessibility options with a useful language package
Not enough change in fundamental working and looks
Split screen Layouts and Improvements for Big screen
Cons
Smallest Android Upgrades till now
Limited features and changes 
Limited functionality of Pre-App language
Limited Customization
Features of Android 13: Minor Update with Limited Customization
Customization
It's the smallest OS upgrade by Google till now. So, we can't find enough customization options compared to Android 12. if you are reminded of the personalization and customization, then defintiely it may not be the favourable OS for you.
Still, we can notice some impressive special customization features. Its new customization features let the users customize the UI easily to match the colour of the background screen wallpaper. Also, it has a great selection of colours.
With its easy colour selection, users can customize their android screen with a favourable colour. But other heavy customizations are missed in these updates. Still, customization is possible for phones running on Custom UI like MIUI, EMUI, or OneUI.
Multilingual Package
The biggest update of this Android 13 is its Useful Language and Accessibility options. The pre-app language settings also make it easy for the other regional language users. Now, Android users can set their prefered language for the prefered apps.
Although the users can set their preferred language for Individual apps, it's still limited. Still, this feature works fine on Apps provided by Google and other top apps. In short, it's the biggest change of Android 13, but it still needs to be improved.
Security
Regarding Security, we can notice the number of changes on it. This update has also brought out some improvements in permissions, privacy and Security of the system. With its new permission and privacy improvements, it's easy to protect and relax regarding privacy.
In this update, the app asks the permission at first or before sending the notifications.
Similarly, another improved feature regarding the Security in Android 13 is it's from Photo Picker. Like on iPhone iOS here, too, we have an option to select specific images for certain apps to take the permission regarding that.
System UI
The new UI of Android 13 is different. You can notice these changes in the notification shade and control panel. It has a quite bold navigation bar compared to Android 12. also, we can notice the changes in control panel icons and their behaviour.
Performance & Multitasking
Although this small android upgrade doesn't allow enough customization and limits us on expected changes, we can still enrich multitasking functionality. Google has expanded the device functionality by creating changes and improvements. Comparatively, the new Android 13 perform faster than Android 12.
Also, get the cross-communication features. Using these features, Chromebook users can easily connect their phones to send and receive messages without their phone. Also, copy-paste functionality of this new OS is great. Now, the users can easily perform the copy-paste on the cross-device, its cross-device functionality.
Additional Features
Till Android 12, the storage capacity was limited due to its FAT32 format, but now Android 13 supports the exFAT file system. This file system restricts the boundary of file size limitation. Now, Android users can let handle files larger than 4GB.
Similarly, Android users can now get direct or quick QR Scanner features. Users can now easily access the QR Code from the notification shade. Although we can get these features on some smartphones running on custom UI but it's official from this OS Upgrade.