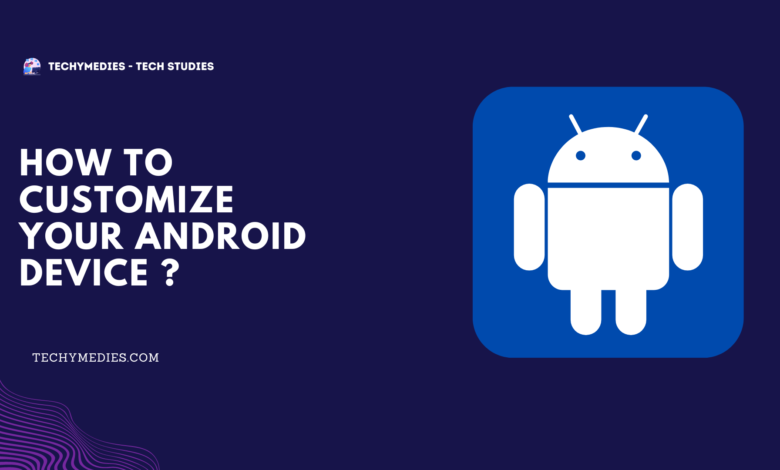 Introduction
Today in this article we discuss the How to customize any Android Devices. Well if your Android devices are just a simple look then after reading this article and follow our tip now you can customize everything on your Android devices. If you want to customize your Android devices then just read our today article and follow the steps.
What is Customization?
Many people use different types of Android devices in daily life but if those people who bored his android device interface or add some features then those people try to customize in the mobile setting. But in the mobile setting, he or she can't right ways to customize or add some unique features. So that he or she follow the alternative way to customize an Android device.
Customization is the process where a person sets up his device or customize it in an advanced way and that is no matter that he or she uses a system app or third party app to customize an Android device. And if you are happy with your Android device interface then that is good but if anyone is not happy with his interface then he or should be tried their steps which we have discussed.
Generally, if we want to customize our Android devices in an advanced way then we have to download some other third party applications because these third party applications will provide the advanced features of customization. And these third party applications are safe and secure and these are already available in the Google play store.
So now we provide the full detail of third party applications and why we need this application and what type of customization features this application will provide. You will choose according to your need.
Cometin App
Cometin Application is the best application to customize our Android devices. Cometin app allow us to customize the basic feature or add basic features, so that we place this Cometin app in our list in the first position. And we discuss one by one applications from basic to advance. Cometin App is available on the Google play store and you can easily download it. And now we discuss the features of this application.
When we open this application first time then we have to download the different types of modules. And we may access more modules in the browse section which is in the bottom navigation bar in this app. And don't worry these modules are the features of this application. And we discuss some important modules which are useful for android devices.
#Feature 1 – Ambient Display
The first module is Ambient Screen. When we install this module we have to grant some permission like always open in screen etc. And to customize the Ambient screen just tap the setting icon and here we see the all different types of permission. You may allow this permission according to yours. And in the bottom section, you see the open designers button. And with the help of this, you can design your Ambient screen.
#Feature 2 – Darker Brightness
With the help of this module, we can set custom dark mode on our screen. For some android devices, we can't lower the level of darkness. Because it is an inbuilt feature in android we can't set it too darker screen but in this module that is possible. And in this module, we also set the blue light filter too.
#Feature 3 – Immersive
With the help of this module, we can hide our notification bar and medication bar. It helps us to get more content on our screen.
#Feature 4 – Shake Action
You may know this feature but in most android devices this feature is not available but in this module, we can now use this feature and set up these features according to us. Suppose when we shake our mobile the flashlight will open automatically.
So that all-important module features of Cometin App. And there are also some other features but they may already be in most of the Android settings so that we skip those modules.
Volume styles
Volume Styles is the most important application on App customization series. By using this app we can easily customize the volume styles. In this application, there are lots of volume styles are available and we can also customize the volume border, color, shapes, and a lot more things. After setting up the customization whenever we press the volume down or up we see the very beautiful and attractive volume style in our Android devices. If you are interested to customize the volume style then you may try this app. And this application is available in the Google play store.
Computer Launcher
If you love to use a computer and want to bring the computer interface to your Android devices then it is possible. With the help of the Computer Launcher application now you can easily bring or set the Desktop environment in your Android devices. Worry to download? Don't worry it's available on the Play Store, you can easily download this app. When we open and allow such permission we see the desktop interface install on our Android devices.
All thing now changes to a desktop viewer like it have a recycle bin just like a desktop and we see our file manager is also changed. It is just a launcher which is trying to provide the desktop or computer environment in our Android devices.
Final words
At the end of this article, we suggest that all Applications which we discuss in this are safe and secure. And application which are in this article, are available in the Google play store. If those customize features are already available in your Android setting then no need to install these apps. And in today's article, we discuss that how to customize our Android devices and also discuss some third party apps which help us to customize our android devices.