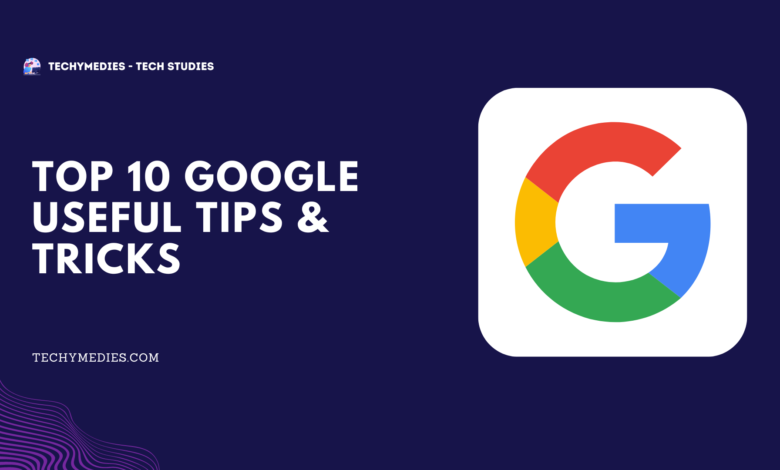 Introduction
Today in this article we will discuss about top 10 Google useful tips and tricks. In this article we will not only discuss but also explain all top 10 Google useful tips and tricks one by one and these tips and tricks will more helpful for every user who use Google So let's start our today article.
What is Google ?
Before we start today's article first of all we have to discuss about what is Google so Google is the search engine where many user search data query. In this article we will discuss the top most top 10 hidden settings or useful tips and I am sure that the most of the user doesn't know about this setting which we will discuss in today's article. So let's start.
Top 10 Useful Tips & Tricks About Google
Now is the time we will discuss the top 10 most useful tips and tricks about Google and for your better understand we will divide dose hidden features and in this article we provide instruction that how to enable those feature and use it easily.
#1. Open in New Tab
The first features or setting is open in new tab. Most of the user always open the link in new tab when they search anything in Google. For those user who do this think really this feature will most useful for him. After enable this feature and search anything in Google and when we click link then it will open in new tab automatically. but first of all we have to do some settings before we use this feature.
To enable this feature at first go to Google.com and if you use mobile then turn on the desktop mode. After that go to setting then you will see the pop up menu after that choose the first option that is Search setting. After click scroll down and you see "Where Results Open" option and under the option check the box and save the setting. Now you search anything and when you click any link it will open in new tab or window.
#2. Safe search
This feature will most helpful to parents. This is also called parental control feature. If you are a parents then you should on this feature. By using this feature your child or anyone including you also cannot search bad contents. And to enable this setting, Go to Google.com setting and then go to Search setting, after that You see in first option Safe Search Filter, just on this setting. And now Google filter your every search and remove bad contents.
#3. Results per page
Sometime do you think that why only top 10 results we saw when we search any things in Google. And if you want to change the number of results per page or increase the value then yes it is possible. After you change when you search anything on Google then Google will display n number of search results which you are set.
To enable this this setting then it is very much simple. At first Go to Google Website or homepage then go to setting then go to search results, after that you will see Results Per Page in second option. And you can change the number and set 10 to 50 results.
#4. Language
Most of the want to set there own mother language like Hindi, Tamil, Bengali etc in Google Search Results or change the Language but they can't. Well in search results the by default language is English. To change the language of Google Search Results is too easy. At first go to Google Website or homepage and then click the setting, after that click the search setting. Then we see the Language option in top left corner, just click the language option and choose the language which we want to set in google search results.
#5. Search Results History
In our daily life we search too many things in google And You know that Google will always track that what type of things we search in Google search Results, so that it will be very easy to know our all information and not only google but also anyone can check that what kind of things we search in Google. If you want to clear your all search history then you have to clear it manually because it will not clear automatically.
To clear our Google search results history first we have to go Google.com website and then click to setting, After that you see the Search History Option in fourth number. And then click Delete option to delete our search results history.
#6. Toss a Coin
This is not the setting but this is the most cool and useful tech tips that we can toss a coin through google. Suppose we are in match ground and to start cricket match first we have to toss the coin but sometime we haven't any coin to toss, but now it possible to toss a coin in google. Just go to Google website and search "Toss a Coin". After that google will show a digital coin and we easily toss the coin and check whether Heads or Tails will come.
#7. Online Calculator by Google
Now the time every calculator will very advance but if we have a system calculator which is a simple calculator or we use a keypad mobile where calculator won't advance, in this situation we easily calculate and solve any problem. And this calculator is very much advance which will provide by google. To calculate at first you have to search Calculator word in Google website. Then a digital calculator will come. And now we can solve any advance problem by using this calculator which is provided by google.
#8. Google find my device
Now no need to install Google find my device application in play store. To find our device login the same email account which we already login in another device, after that allow location permission, then it will be automatically detected your mobile and we can also ring the alarm by using Google Find my device.
#9. Pronounce
There are most of the difficult words that we cannot pronounce and in this situation google will help us to pronounce the difficult word. To use this feature just search Pronounce and then write your difficult word with correct spelling. Then google will provide the best tricks to pronounce the difficult word and help us to read the word easily.
#10. Related Photos
Well this feature is very useful for every google users. by using this feature we have to upload a image and then google will provide all possible information about the image upload by us. This is very helpful for students and other android users. If you want to use the feature then at first go to Google and then turn on desktop mode and then you have to press the image option which will at the top position. And now we see the Camera logo in search bar side. Just tap the logo and we see the upload image option, now we can upload any image and google will provide all information about the image.
Final Words
So in this article today we will discuss the Top 10 Useful Feature about Google, and we will discuss all feature one by one. And really those feature which we discuss in this article will very cool and useful for every users who use Google.